Kingsford Waterbay At Upper Serangoon View
CSC & TOP Obtained – Last unit available


Price from $848,000 /- , 1 Bedroom PH available
High Floor | Fantastic River & Pool view available
New Launch – N

ormanton Park

(1,862 residential units )
---
 

Last Updated On 24 March 2022

 | 1 bedroom PH available
#16-54 (floorplan)
24-03-2022: 1 bdrm: 657sqft (High ceiling @ hall area)
08-04-2021: 1st 800 buyers of Normanton Park stand to win Mercedes Benz (10 units)
10-08-2018: Less than  20 units available – TOP 4Q 2018
10-08-2018: Do Contact Us to get Direct Developer Price or to view our Showflat
01-08-2018: Call Developer Sales Team at 61008339 for latest updates
---
Kingsford Waterbay is located at Upper Serangoon View and developed by Kingsford Development Pte Ltd. The tall and amazingly designed buildings accommodate 1,157 apartment units, 6 strata terrace houses, and two semi-detached homes. You have to rush if you want to make sure you get a dwelling here because they are being sold out at a very fast speed. They have proven a major hit beside the Upper Serangoon River, so the builders are considering building such apartments at other beautiful locations as well. In addition, living in this development is so convenient with the presence of 6 retail outlets (Fully Sold) and a childcare centre (Not For Sale).
There are certain features that help make these apartments, strata terrace houses and semi-detached homes dreamlike. The most prominent feature is the unblocked view of the spectacular Serangoon River which will make your mornings breathtakingly beautiful as you can start your day with the view of the amazing river right after dawn. However, nothing can match the beauty of the sun setting over the riverside which surely presents an amazing sight which is definitely worth spending your evenings around the windows or on the balcony of your apartments. This upcoming project brings convenience right to your doorstep. You will definitely be attractive by the Unique Selling Points to purchase a unit at this development now.
---
Kingsford Waterbay @ Upper Serangoon View – Location
This development is located along Upper Serangoon View and,
Right beside Serangoon Park Connector Network and Sungei Serangoon (Serangoon River).
Beside Rio Vista Condominium and Opposite Heroy Bay Executive Condominium.
Close to Hougang Mall, Kang Kar Mall and The Midtown (Under Construction).
>>> Click Location and Contact information for Kingsford Waterbay for a more detailed location,
---
Kingsford Waterbay @ Upper Serangoon View – Site Map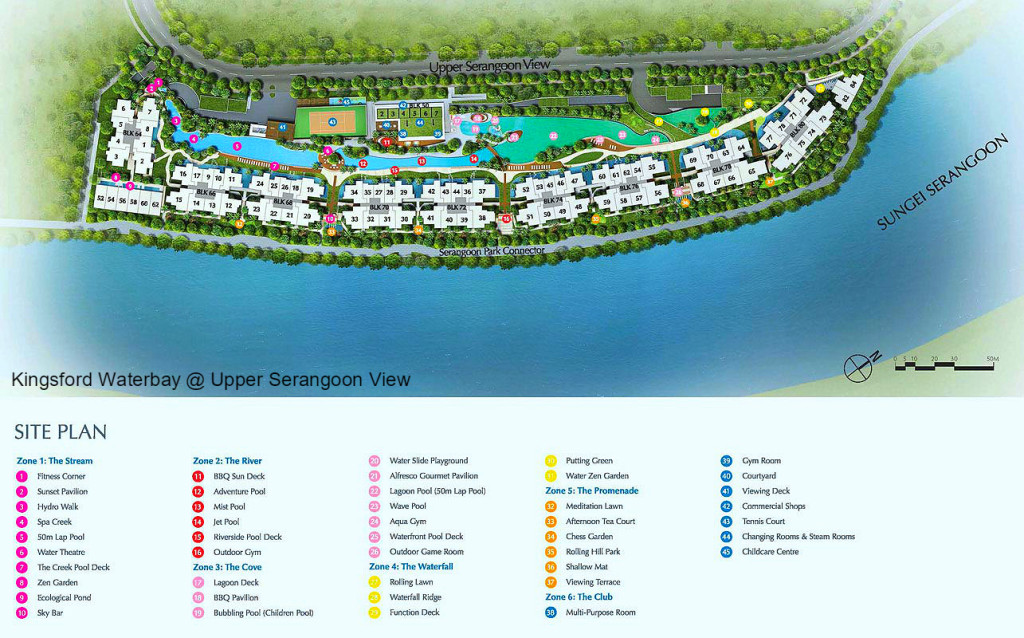 ---
Kingsford Waterbay @ Upper Serangoon View 

– Information At A Glance


 
Developer
Kingsford Property Development Pte Ltd
Address
50, 52, 54, 56, 58, 60, 62, 64, 68, 70, 72, 74, 76, 78, 80, 82, 84 Upper Serangoon View
District
19
Tenure
99 year leasehold (commencement date: 3rd March 2014)
Site Area
Approx. 27292 sq.m.
No. of Storey
Comprises nine 16-storey blocks and 2-storey strata terrace & semi-detached houses
No. of Units
1157 units on residential blocks, 6 units of strata terrace houses & 2 units of strata semi-detached
houses & 6 units of commercial shops
Facilities
Full condo facilities
Carpark
1165 lots and 8 handicapped lots for residential at basement car parks;
2 lots for commercial; 12 car lots, 1 school bus lot and 1 handicapped lots for Childcare Centre
Date of Legal TOP
Dec 2018
---
Kingsford Waterbay @ Upper Serangoon View – Pricing



The units are very serene and lavish so you can live in style with amazing architecture. The most reliable materials have been used so that the maintenance and repair costs you have to pay are lowest. The sizes of the residential units are ideal starting from cozy 1 bedroom apartments to huge and extravagant 5 bedroom apartments. Finally, these houses are available at competitive rates so you don't have to worry about putting too much pressure on your pockets. These features are only a few to mention while others can only be experienced by visiting the beautiful dwellings constructed by Kingsford Waterbay.
From as low as $602,000/- (Fully Sold), you can now own a 1 bedroom (484sqft), pool facing unit. The estimate pricing per square feet (psf) ranges from $1,120psf to $1,220psf. In addition to 1,157 apartment units, this development also consists of 6 units of Strata Terrace, 2 units of Strata Semi-Detached Houses (Fully Sold), 6 units of Retail Shop (Fully Sold), and 1 unit of Childcare Centre. Both the corner terrace were sold and left with 4 units of inter-terrace. For a development that offers excellent river and pool view, and an entrance Price of approximately $600,000/-, it will definitely attract both home buyers as well as investors. 
---
Kingsford Waterbay @ Upper Serangoon View – E-Brochures & Floor Plan
In this Development, you will be able to find a nice mix of 1 bedroom to 5 bedroom apartment units (including Patio & Penthouse), strata terrace houses and strata semi-detached houses. There are different floor plans for different apartments so that the customers can make up their mind so as to what they want to buy. The floor plans vary on the basis of a number of bedrooms in the apartments for example in a 1 bedroom flat you will find a single bathroom attached to the bedroom and a single room that makes the living room, dining room, and kitchen. They also have balconies with one bedroom apartments which enable the dwellers to enjoy the nice pool view that lies beside the units. The two bedroom apartments have larger balconies than one bedroom ones while some even accommodate amazing walk-in closets that add to the comfort of your home. In three or more bedroom houses the kitchens are separate and not as a single room with the living and dining areas. They have master bedrooms and greater variety in floor plans so you can get what you dream for. Feel free to download and check out on the varies distinctive Floor Plan of this development.
---
Kingsford Waterbay Show Flat – Not Available!
You Can Watch A Short Video Fly-thru Of The Show Flat here!
---
Bottom-Line
Thus, if you want to enjoy living a comfortable and peaceful life at reasonable rates, then Kingsford Waterbay at Upper Serangoon View should definitely be on your list.
  You Can Also Contact Developer Appointed Sales Team Direct @
61008339
or visit our Show Flat now
---
 

Last Updated On 24 March 2022

 | 1 bedroom PH available
#16-54
24-03-2022: 1 bdrm: 657sqft (High Ceiling @ hall)
10-08-2018: Less than  20 units available – TOP 4Q 2018
10-08-2018: Do Contact Us to get Direct Developer Price or to view our Showflat
01-08-2018: Call Developer Sales Team at 61008339 for latest updates
---
Normanton Park will be the next mega new development by Kingsford Development, that will target to be launch in 1Q of 2021. It comprises of 1,862 residential units (1 to 5 bedroom and Villa House) and 8 commercial shops. Contact the developer sales team now for more information.
A new freehold development not to be miss at District 15 – Infini at East Coast. Contact us for more information now. Price from $1,450,000/-. Near to Famous School – Tao Nao and upcoming Marine Terrace MRT. Chinese New Year Promotion ending on 15 March 2020. Do not miss!
Freehold Development At Prime District – VVIP Preview on 04 January 2020. Leedon Green located at prime district 10. A fantastic freehold development by MCL Land & Yanlord Land. Leedon Green comprises of 638 residential units, with a good mix of 1 bedroom to 4 bedroom. The showflat will be situated at 26 – 28 Leedon Heights, that is the same location as the actual site.
Provence Residence EC is just minutes walk to Canberra MRT Station. It is located at District 27, Yishun /Sembawang. Surrounding amenities include Canberra Plaza where you can do your grocery shppping and Bukit Canberra – Sembawang Integrated Hub where there are plenty of lifestyle amenities available.
Parc Greenwich EC is a new EC that is expected to launch in 2021. Located along Fernvale Lane. Nearby mall include Greenwich V and The Seletar Mall.
Do feel free to check out more exciting website on Singapore Property – Parc Central Residences.
North Gaia Executive Condominium is an upcoming new development along Yishun Ave 9. It is just within 5 minutes walk to junction 9 and a short drive to Yishun MRT. North Gaia EC comprises of 616 residential units from 3 bedroom (958sqft) to 5 bedroom (1,593sqft).